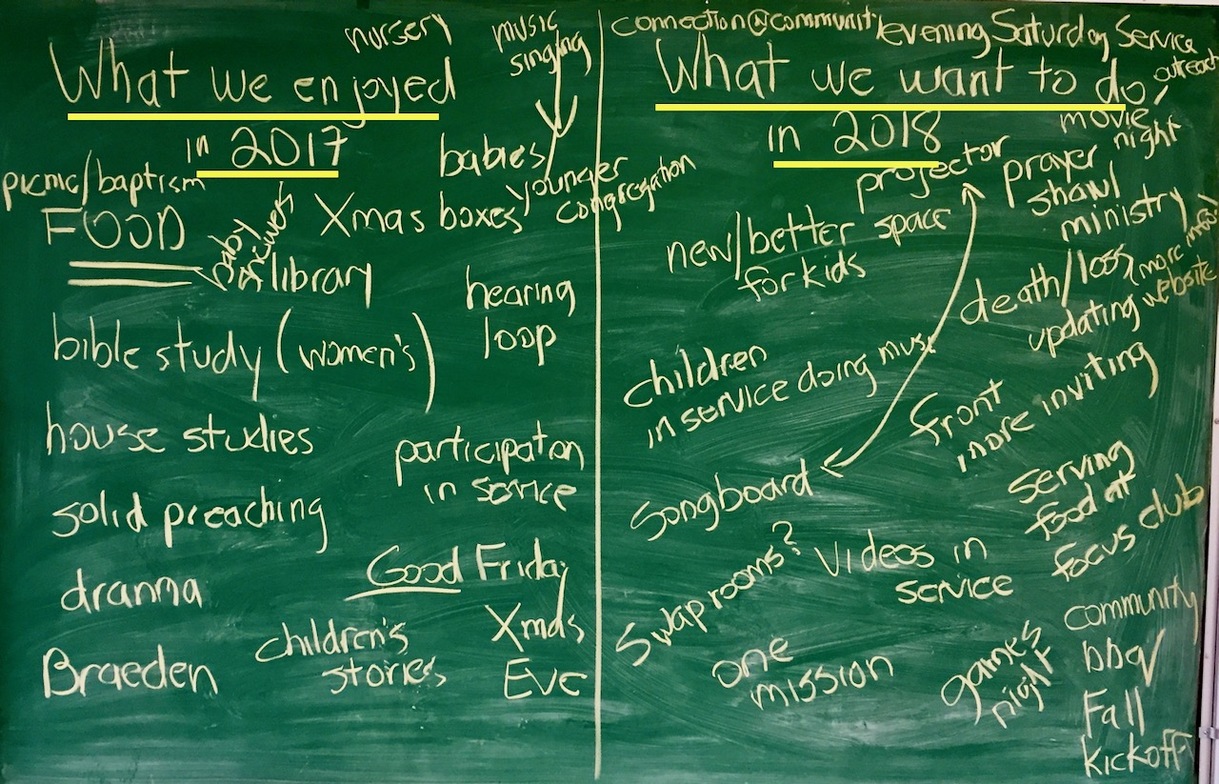 This past Sunday the congregation gathered in the Lower Hall after worship, split up into table groups, and talked about what we enjoyed in 2017 and what we hope to accomplish in 2018. Lots of good discussion followed.
When we reconvened as a large group a number of ideas were shared and were noted on the chalkboard.
What did the people of St. Andrew's enjoy about 2017? Let me establish some loose categories:
Fellowship/Learning:
Food! Food! Food!
Home bible studies
Women's bible study
Picnic
Library
Worship:
Solid preaching
Drama
Children's Stories
Good Friday Service
Christmas Eve service
Participation in services
Music/Singing
Positive Changes in the Congregation:
New life (Braeden)
Hearing loop
Baby showers
Babies
Younger congregation
Baptism
Service:
What are the people of St. Andrew's interested in exploring in 2018?
Service to community:
Connection with the neighborhood group
Movie nite outreach
Prayer shawl ministry
Serving food at focus club
Community BBQ
Shared Mission
Fellowship & Support:
Games Nite
Conversation about death & loss
Changes to worship:
Saturday evening service
Videos in service
Children singing special songs
Song-board/projector/videos
Changes to space:
New/better space for Sunday School
More inviting entrance
Better information:
What seems clear to me is that in 2017 we have enjoyed spending time with each other in fellowship and worship and study. What also seems clear is that we feel blessed by the presence of children and young people in our community. Moving forward it seems clear that we are interested in in taking opportunities to serve the broader community. There is also a desire to make our space more hospitable to our young people and our visitors, as well as to broaden our worship with new opportunities to gather, more involvement from our children, and the application of technology to teaching.
Many of these ideas could take off with just a little support from a few people. Others will require further consideration and discernment and the coordinated effort of many. If you are interested in seeing any of these dreams become a reality please talk to pastor Steve or your elder.